Music Director Simon K King – Brewing emotions with magical music
Interview by Richard Mahesh Rajakumar
Amazon Prime Video's recent outing 'Vadhandhi' has captured the interests of universal crowds for its engulfing them with relentless inquisitiveness and overwhelming emotions. The Fable of Velonie encapsulates the stellar performances of actors including versatile performers like SJ Suryah, Nasser, Laila, Sanjana, Hareesh Peradi, and almost everyone in the frame, enthralling us with their vivid spells. Well, the directorial proficiency of filmmaker Andrew Louis found an impeccable escalation through the musical chords of composer Simon K King. From the riveting signature score of title credits that commutes us into the world of Vadhandhi, sticking to the intrinsic orthodoxy of church choirs and elevating the mysterious essence, and letting us experience the peak on tenterhooks towards climax episodes with an intriguing score, he just kept us imbibed in his magic.
In this conversation with Studioflicks, he shares his experience of working with a team of powerhouse talents that endowed a fresh experience.
How different was the experience of composing music for a web series from films?
When it comes to the basic structure, I feel films and web series; have the same storytelling pattern of beginning, middle, and end. However, web series have a long format, which makes a big difference from working for a movie. The working process of a web series is more like composing music for 3 films together.
Having said that process of working in a long format was challenging, how was the experience working in series like Paper Rocket and Vadhandhi?
Since I was there from the writing process itself, the process was smooth in many places. When Andrew Louis started writing the script for Vadhandhi, he would send me script works frequently, which gave me a clear picture about the situations. Around 40% of the composing was completed during the script writing stage itself. With Andrew's perfect visual translation from script, my work became easier. The scenario was same with Paper Rocket, as Kiruthiga Udhayanidhi ma'am gave me the complete script during the preproduction stage that helped the process of composing get smoother.
How was it working with eminent filmmakers Pushkar & Gayathri, the creative producers of this series?
They are one of the best producers I have ever worked till now. The Pushkar-Gayathri duo might sound like a single term, but they are two filmmakers. So, the ideas and suggestions would often arrive from two different creative minds, and getting appreciated by them was so great.
Being creative producers of this series, they were so supportive. Since they are filmmakers, they made sure that the creative process had no compromises. When I made a request that recording the music in Budapest at Hungary would be good, they agreed instantly. It was a great memorable moment working with them.
The musical score in the title credits is one of the fascinating constituents of the Vadhandhi series. Can you shed some light on the process of creating it?
The title score is a one-minute extract from a full-length song. Ku Karthik has penned lyrics for this song, which has complex Tamil lyrics of the 2nd Century as in 8 Thogai Noolgal. The song was composed with the flavour of 18th Century Church music for the series' titular character 'Velonie' is an Anglo-Indian girl.
We recorded the song with 100 Church choir members in Chennai and Budapest. With the Tamil words looking complicated, we were keen on getting the perfect pronunciations from singers, who being great talents, rendered the song exactly as we wanted.
Apart from being a brilliant filmmaker and actor, SJ Suryah is a music director as well. So what was his response to your musical score?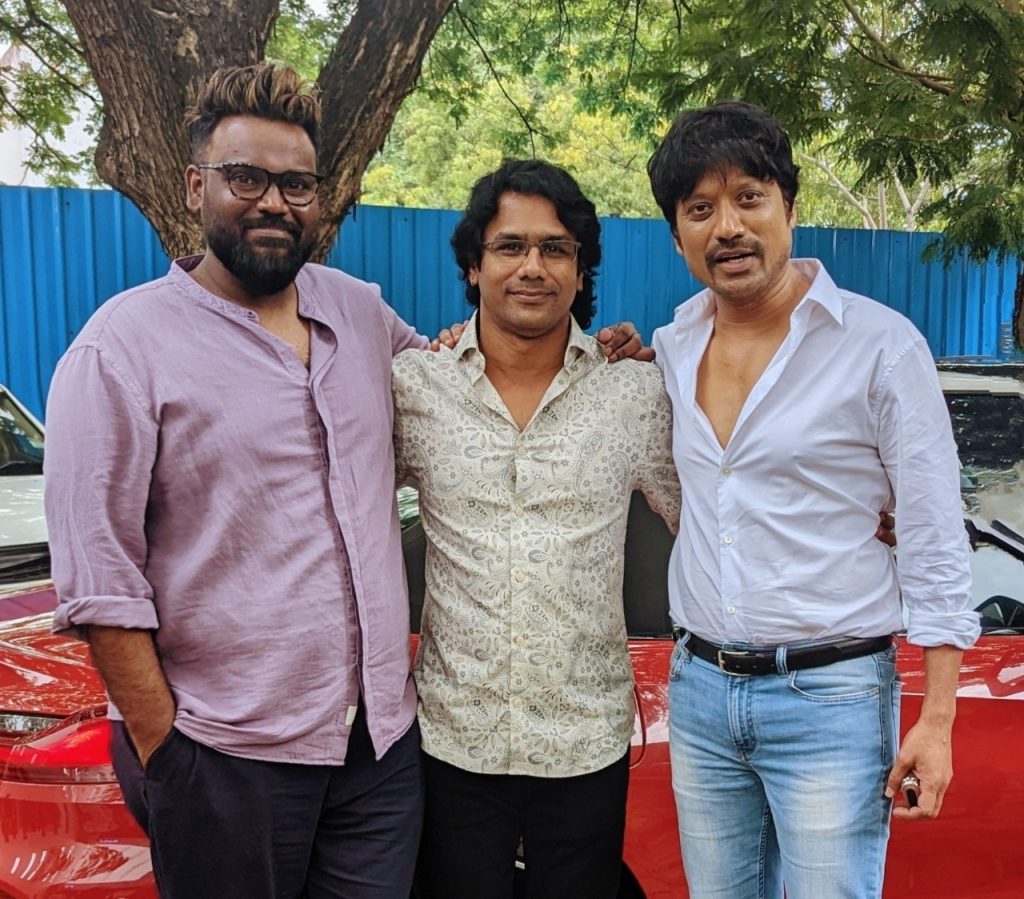 I would say, more than a great performer and filmmaker, SJ Suryah sir is a unique and good person with a golden heart. His contribution as an actor has elevated the intensity of Vadhandhi to a greater magnitude.
I was awe-stricken watching the rough cut of his unparalleled performance in the single-shot scene. He keeps changing his body language and mannerisms from one scene to the other. Such nuances kept pushing me to enhance the musical to the best. The entire series was shot using Live Recording, and the way he matched dialogues, body language, and mannerisms in a perfect style were amazing. As you told me, he is a great musician, and it was nice to hear him say that my score has a Western signature.
Was there any particular scene that demanded or propelled you to go through multiple sessions to compose the score?
I would say that the situation was in contrast to what you asked. The appealing element about Vadhandhi is that every single actor has been a natural performer. From the lead artistes like SJ Suryah sir, Nasser sir, Laila ma'am, Sanjana to a character artiste with minimal screen presence have delivered realistic acting. I become conscious that an overdose of score would overlap or ruin their beautiful efforts. Precisely, I didn't want to make it melodramatic, and wanted either to avoid music or keep it low in many places.
Vadhandhi has witnessed phenomenal reception. Can we expect a new season anytime sooner?
Of course, talks are going on, and the official word will be out very soon.
Can you share about your upcoming projects?
I am working with director Andrew Louis on a new project, and the official announcement will be out anytime soon, and a Telugu movie is in the pipeline.
The trend of independent singles and albums is blooming as never before. Are you planning to work on such projects soon?
It's great to see that the trend is getting bigger. Independent singles and albums are turning out to be a substantial platform for aspiring and talented music artists. However, I have always been passionate about composing score for cinema. I love the process of doing so. Independent Music is good, but it has challenges like 'changing of trend' as an inherent factor. In contrast, cinema is universal and unchanging for ages to come.